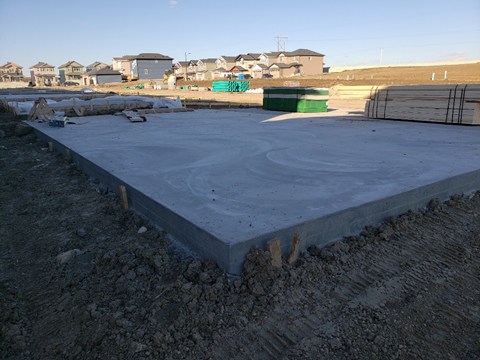 A residential garage is an enclosed structure to store vehicles for every residential house and can be both attached to the house and detached from the house. Irrespective of their location, the garages are typically build with reinforced concrete and most cases with piles at the middle. Builders typically construct the garage pad prior to selling the house; however, the basic steps of building a garage pad are provided below if someone is planning to construct a garage pad and needs to comprehend the construction phases.
1) Layout the Garage Pad:
Select a suitable location for the garage pad within the property and maintain a certain distance from the lot or property line as per the city's requirement. Once the location of the garage pad is fixed, lay the garage pad area with string or other methods.
2) Site Preparation:
Site preparation is one of the key components to build a garage pad. Remove any topsoil and debris from the garage pad area and prepare a level bed for the concrete slab to rest. Consult with an engineer to identify the thickness of the compacted gravel or follow the local code.
3) Build the Formwork:
Layout the boards on all sides of the garage pad and nail them together. Ensure the forms are square and brace them to hold concrete from inside. One quick check to ensure the squareness of the formwork is to measure the distance diagonally. Use a laser level or another leveling tool to set the formwork to grade and mark the slab thickness on the formwork.
4) Reinforcement Layout:
Prior to laying out the reinforcement layout, damp proof membrane shall be placed underneath the garage pad. According to the city requirement or design requirement by a structural engineer, the reinforcement must be laid out at a certain distance for additional strength and crack resistance. Typically, the reinforcement is placed at the mid-height of the concrete slab and they are tied together. Splice the reinforcement where required with minimum 6″ overlap.
5) Concrete Pour and Level the Garage Pad:
Calculate the required amount of concrete for the garage pad. Order air entrained concrete with a minimum compressive strength of 32 MPa at 28 or 56 days. Pour the concrete onto the garage pad and flat the top surface with a bull float. At every 10 to 12 ft, grooves need to be cut to avoid shrinkage cracking. When the concrete started to harden, use a push broom to create a non-slip surface. Remove the formwork after few days of pouring but cure the concrete for at least 28 days.
To work with a professional construction team, contact MR Engineering for constructing a safe and affordable garage pad.