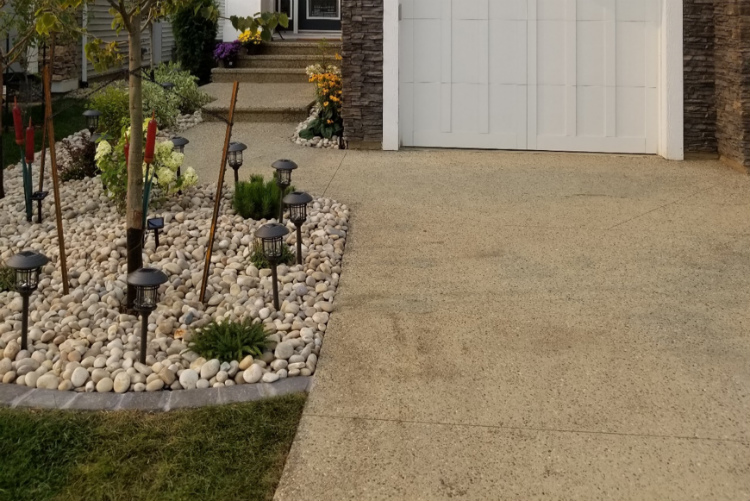 Concrete works for new houses is usually done by the builders prior to selling house to the homeowner. On the other hand, it is quite intimidating for existing house owners to construct/ renovate old garage pad, driveway and walkway. Selecting an experience and expert contractor is vital for a homeowner for any construction. It is also important to find a small construction company with reasonable rate as often the homeowners would like to finish the job with lower budget. It is essential as a homeowner to get educated about the construction steps and contact with contractors for quotes. There are so many steps to follow for concrete garage pad, driveway and walkway construction.
Laying out the location of the concrete garage pad, driveway, and walkway is the first step of construction process. Well compacted base with proper drainage is next step and the base layer is typically 6 depending on the presence of native soil. For compaction, the soil base is dampened with water and compacted with a vibrating compactor to ensure the base is intact with less pores. Subsequently, the form boards are installed on the perimeter of the concrete garage pad, driveway, and walkway. Contractor make sure that the form boards are properly set for height, secured and plumb. Then, the rebars are laid out and tied together as per the plan or engineering specification. Prior to concrete pour, the rebars are set on chairs and a verification of all the requirements are done at this stage. Finally, the concrete is poured in place and the surface is finished as per the requirement. Once the concrete is set gain some strength, the form boards are removed from the perimeter and gaps are filled with soils.
We have experienced and specialized professionals that can install flawless concrete garage pad, driveway and walkway to ensure the quality of your construction project. To work with a team of expert construction professionals, contact with MR Engineering.