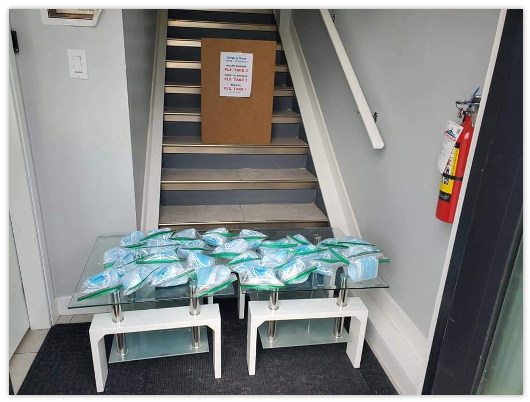 Currently, the entire world is plunged into an unprecedented health and economic crisis with billions of lives affected by the worldwide pandemic, Covid-19. Nearly every province across Canada is suffering from the consequences of shutting down non-essential businesses and enforcing social isolation. In addition to worrying about their own health and the health of their loved ones, countless individuals are facing dire economic repercussions after losing their jobs as a result of the virus. Many businesses had to make the tough decision to close their doors and cease all operations indefinitely. It appears that the economy throughout the province and the country is heading towards a screeching halt. Even those making the most optimistic predictions cannot deny that we have to endure these dreadful circumstances for at least a few more months, if not much longer.
During this challenging time filled with uncertainty, we at MR Engineering are continuing to work hard in order to provide clients with the engineering services they need. The first and foremost concern for MR, as it should be for any business operating during a public health crisis, is the safety of its employees. Within the first week of the public health emergency announcement made by the Government of Alberta, MR Engineering had prohibited all contact with clients for any reason in order to limit the exposure of our employees to the virus. Additional safety measures, such as maintaining 2 meters between all workers and providing hand-sanitizing stations were implemented. As the situation continue to escalate, we made the decision to request all employees to work from home in order to promote social distancing. We recognized from the beginning that the speed of making these tough decisions is a major factor in protecting the health of our employees, and so we had to act quickly. As a result, we were able to prevent the spread of Covid-19 into our office and also allow employees the opportunity to adjust to their new way of working. We have distributed surgical masks to our employees and clientele to protect their people in the organization, family and community members.
However, it is by no means an easy task to maintain proper operations when faced with so many restrictions and limitations. As most engineering projects are tackled by a team of people and require frequent discussions between team members, it is crucial to maintain proper communication between the employees. Thankfully, the current age of technology allows for many alternative forms of telecommunication, including emails, texts, phone calls and video conferences. All of these methods to connect with one another gives us at MR the ability to work together even while being physically apart. The usage of these alternative forms of communication also extends to clients, so that they are able to reach us with any questions or concerns. Another challenge of working from home is the inevitable drop in efficiency, which sometimes can lead to projects taking longer than usual to complete. Therefore, it is very important for everyone involved in a project to improve their organizational skills and group coordination to minimize the negative effects of working from home. In addition, it may be beneficial to explain these limitations to the clients and ask them for a reasonable deadline extension if needed.
Although we have taken a slight hit in terms of efficiency, we at MR Engineering did not sacrifice any quality when it comes to our engineering services. We have always strived to deliver the best possible solutions by emphasizing safety, creativity and sustainability, and that is no different even during difficult times like these. Our vision and values stand firm as the foundation for everything we do, and our clients remain loyal to our services. Unfortunately, Covid-19 has dealt a heavy blow to our economy, and the fact is that no matter how hard we fight it, eventually the number of incoming projects and clients will dwindle. When that happens, we will need to find other ways the keep the business moving forward in preparation for the end of this crisis. But for the foreseeable future, we will continue to excel and provide innovative solutions to all of your engineering needs.